Lead Funnel Webinars
New! The 5 Keys to Reliably Fill Your Sales Funnel with Closable Prospects.
Join Dori Lindsey, Sales Director at LeadFunnel, to discuss how to cleanse your data with fresh contact information and write campaigns that generate responses.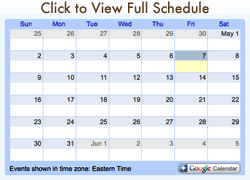 Webinar Details:
Date:
Tuesday, April 5, 2011
Time:
11:00am - 12:00pm EST
We will cover:
• Newest append technologies to clean up your current list, find replacements
for bad addresses and acquire additional decision makers.
• Which providers are best at deployment for maximum delivery.
• Transform messaging for maximum opens and click-throughs.
• Tracking methods to allow focus on the most likely to buy.
Reserve your spot for the webinar now:
(You will receive login details after you register)




» Join a Presentation | Leader